25mg CBD Gummies | 500mg Salve | CBD bundle
Ease into CBD with our 30-count combo-flavor 25mg CBD gummies (delicious as they are easy to take) and 2-oz jar of 500mg salve (topical, fast-acting relief). You'll be a fan in no time.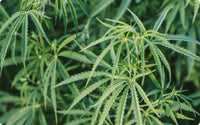 CBD edibles vs. CBD topicals
Which CBD product is right for me? It's a question we get A LOT. The difference between using CBD topically vs. orally could be likened to the difference between over-the-counter pain pills like ibuprofen vs. topicals like Icy Hot. That is, topicals, in general, offer more localized, immediate relief. Edibles take longer to kick in (between 30 minutes to 2 hours), and the effects typically last longer. That's because edibles are processed through your digestive system, and the CBD is metabolized through your liver, which takes longer and provides a bit more of a time-released effect. If you're wondering which might be right for you, we advise experimenting with both to see how each method affects you.
FAQs
What is CBD salve?

CBD salve is designed to be applied topically to affected areas. Our CBD salve is similar to a balm—with all-natural ingredients and botanicals than provide soothing relief. Each jar contains 350mg of CBD for topical application.

Does CBD salve have THC in it?

Our CBD salve is full-spectrum, meaning it contains several other cannabinoids—including CBG, CBN and CBC and trace amounts of THC (up to .3%).

What does CBD salve do?

Half Day CBD salve is not intended to to diagnose, treat, cure or prevent any disease. However, our users say it offers relief when applied topically to affected areas.

Will CBD salve get me high?

CBD is non-psychoactive, meaning it won't get you high. It is important to note than our full-spectrum products, including our CBD salve, contain trace amounts of THC—up to .3%.

CBD salve or CBD lotion—which is better?

Generally, CBD salves and lotions provide the same effects, but salves have a few key advantages. First, salves are typically more concentrated, and because they are formulated with waxes and essential oils, they generally penetrate the skin better and last slightly longer than lotions. Unlike lotions, salves do not contain water, so they have a much longer shelf life than lotions.