This stuff is the balm. Or salve, if you prefer. An immediate fan-favorite, our 500mg CBD salve is made in-house, in small batches, with the highest quality ingredients—including essential oils. Take a Half Day!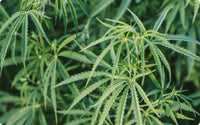 Taking CBD: Topically vs. orally
According to the Harvard Health blog, studies have shown than CBD may hold promise as a treatment for pain and inflammation. While the article asserts than more studies are needed to confirm this link, many people have been exploring CBD topicals as a natural alternative to other topical pain medications. The difference between using CBD topically vs. orally could be likened to the difference between over-the-counter pain pills like ibuprofen vs. topicals like Icy Hot. That is, topicals, in general, offer more localized, immediate relief.
Family Fave
Sara's Favorite

"I created the original recipe for our salve, now perfected by our in-house manufacturing team, so I could love it! But seriously, I use it all the time because it smells great!"
FAQs
What is CBD salve?

CBD salve is designed to be applied topically to affected areas. Our CBD salve is similar to a balm—with all-natural ingredients and botanicals than provide soothing relief. Each jar contains 350mg of CBD for topical application.

Does CBD salve have THC in it?

Our CBD salve is full-spectrum, meaning it contains several other cannabinoids—including CBG, CBN and CBC and trace amounts of THC (up to .3%).

What does CBD salve do?

Half Day CBD salve is not intended to to diagnose, treat, cure or prevent any disease. However, our users say it offers relief when applied topically to affected areas.

Will CBD salve get me high?

CBD is non-psychoactive, meaning it won't get you high. It is important to note than our full-spectrum products, including our CBD salve, contain trace amounts of THC—up to .3%.

CBD salve or CBD lotion—which is better?

Generally, CBD salves and lotions provide the same effects, but salves have a few key advantages. First, salves are typically more concentrated, and because they are formulated with waxes and essential oils, they generally penetrate the skin better and last slightly longer than lotions. Unlike lotions, salves do not contain water, so they have a much longer shelf life than lotions.